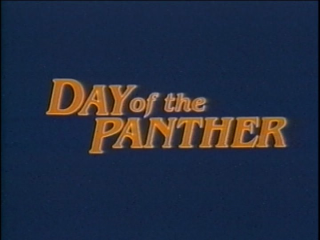 This slice of 80s kung-fu cheese is brought to us by Brian Trenchard-Smith, who young genre fans know from his diefication by Quentin Tarantino in the Ozploitation documentary
Not Quite Hollywood
. Trenchard-Smith cut his teeth on entertaining exploitation efforts like
Escape 2000
and
Dead-In Drive In
, and even tackled kung-fu quite well in the Jimmy Wang Yu vehicle
The Man From Hong Kong,
but in
Day Of The Panther
(shot simultaneously with its sequel
Strike Of The Panther
) he definitely had his work cut out for him. Saddled with an action star almost totally devoid of charisma (or acting talent) and a script that was completely by the numbers, this was a work-for-hire gig after the original director was fired four days in. What remains has flashes of inspiration, but is generally a forgettable and generic action effort.
Jason Blade (the bland Edward John Stazak) is with the Hong Kong special branch and, along with his friend and mentor William Anderson (John Stanton) and William's daughter - and Jason's partner - Linda, is a member of the Order of the Panther - a secret kung-fu society. After witnessing a drug deal gone wrong, Linda follows the Australian dealer back to Pearth, Australia where - after a punch up with some masked thugs - she's killed. Her killer is Jim Baxter (Jim Richards), the head goon of entrpreneurial scum-bag Damien Zukor (Michael Carman) and mastermind of all of the illegal transpirings. Blade comes to Australia to track down his partner's killer, going undercover as a Triad enforcer to try and find work with Zukor, while receiving advice from the grieving William Anderson and romancing his niece Gemma. Things go well until Baxter discovers Blade's secret, revealing it to Zukor before their big (fixed) fight at an underground kung-fu tournament and leading to the requisite confrontation and fight between Blade and Baxter.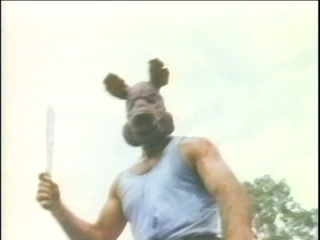 There's little glamourous about being brought in to save a troubled production, but Trenchard-Smith does deserve credit for creating a perfectly comprehensible action film. He obviously knows how to stretch a dollar, but while the production looks cheap - the 16mm film gives everything a vaguely made-for-TV look - it doesn't look nearly as cheap as it actually was. His camerawork is strong, and he shoots the action scenes with a sure hand, though with an over-reliance on slow motion.
More troubling are the performances - particularly Stazak, who is an obviously talented martial artist, but has more trouble when he's asked to deliver dialog. Most - if not all - of the lines appear to be dubbed, which only adds to the low-budget feel. Part of the problem is the character itself who, aside from having a goofy name (Jason Blade? Seriously?), is given very little to do. He's supposed to be devastated by the loss of his partner and desperate for revenge, but all of his scenes feature the same vanilla expression on his face and monotone line delivery. And don't get me started on his attempts at witty banter ("So, you weren't impressed by my little theatrical piece" "I wasn't, but they almost died laughing").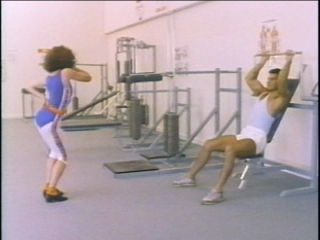 Thankfully the supporting performances are a lot stronger, particularly Michael Carman as the slimy Damien Zukor, who gets the best lines and a pair of flip-up sunglasses. John Stanton doesn't have much to do, but he at least has a great voice - which allows him to give some introductory narration that momentarily makes
Day Of The Panther
feel like a legit crappy kung-fu film instead of an Australian knock-off. Paris Jefferson as Blade's love interest is asked only to flashdance seductively while Jason attempts to work out, before eventually falling for his charms and bedding him. It's very, very silly.
I do want to briefly mention Jim Richards as Blade's martial arts foil - and general prick-around-town - Jim Baxter. He's only a few steps above Stazak on the charisma-meter, but he gets points for dressing like Don Johnson in Miami Vice and kicking and punching quite convincingly.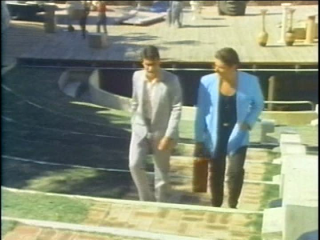 But the fight scenes are the reason we're here, and despite being a little too spread out - the script fills in the slow moments with groan-worthy comedic scenes of bumbling cops attempting to tail Blade - are perfectly acceptable. Stazak may have been born without emotions, but he can throw a convincing spin kick, and does so dozens of times as his opponents crash through walls, windows and whatever other hard surface is close by. The choreography isn't very unique - and it's actually Linda's early fight with the masked assailants which take her through an abandoned building that is most memorable - but the kicks and punches definitely have impact. It's actually a shame that the film didn't take the obvious route of actually having a kung-fu tournament, as it might have spiced up things with a few extra fights.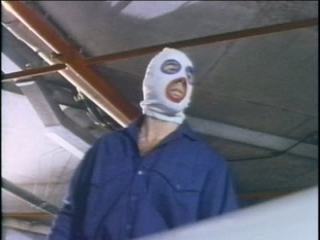 Part of the Millcreek 50 Martial Arts movie pack, Day Of The Panther seems to be transferred from a VHS copy of the film, and therefore has the faded look of an old videocassette. There doesn't seem to be much information lost on the left and right parts of the screen, so I would imagine the film was shot 1.33:1 - which makes sense, since most (if not all) of its screenings would be on video. There is a PAL DVD of the film which is almost certainly of better quality, but you probably wouldn't be watching this to take in the lush greenery of Perth, Australia.
Lots of dubbing means that the sound is never going to be ideal, but the impact from the kicks and punches comes through loud and clear. The soundtrack is full of cheesy 80s synthesizers, and is par for the course for action movies from the time period.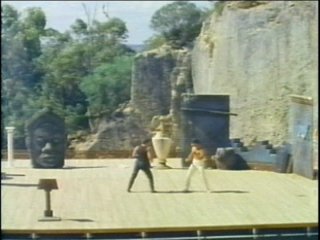 While peppered with moments of interest, Day Of The Panther remains a forgettable kung-fu effort, not even worth the time of devoted fans of Trenchard-Smith. Serviceable action and some enjoyable supporting performances can't make up for a bland lead and a story that fizzles at the end. I've read that the sequel is an improvement, but it's hard to round up much curiosity after this dull exhibition.