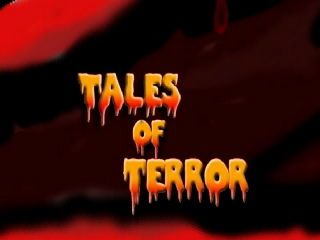 I can be excused for not having much hope for
Dr. Shock's Tales of Terror
after taking in the first twenty minutes or so. Anthology films are notoriously difficult to pull off, and the first segment of the film is particularly wretched. Add to that the irritating presences of Dr. Shock - apparently an Ohio horror host legend - who introduces each segment with sub-Crypt Keeper puns and a pair of X-ray specs - and you have a recipe for pain. Thankfully things eventually improve, and the film - or, more accurately, the collection of short films - ends up having enough fun (and wacky) moments to make the experience worthwhile.
The usual mix of credit and blame must be given to Douglas Agosti (who actually plays Dr. Shock) and Lance Otto Smith who obviously put a lot of their time into the production as writers, directors, producers, actors, as well as providing the special effects. The pair clearly have a lot of affection for genre films, though the films in this collection with their minimal (often confusing) plots lend more to H.G. Lewis than some of the more stylish filmmakers he influenced. As they are presented as separate "features" (each with their own opening and closing credits), i'm going to comment on each in order.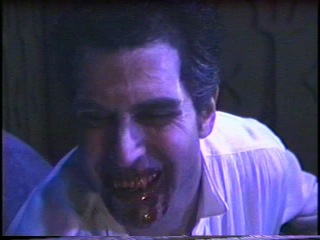 We begin with
Bullet For a Vampire
, which despite apparently being the most recently filmed of the productions - and the one with the highest production value - is by far the least of the films in the collection. The daughter of Vyto Lucciani, a notorious mafia boss, manages to insult a gypsy (never a good idea), who proceeds to awaken a vampire in the form of the handsome and mysterious - sigh - Drake Uala. Vyto soon finds himself fighting off his now-vampiric daughter and henchmen before taking care of Drake, only to be done away with by his mafia buddies who don't take kindly to vampire stories.
As mentioned, Agosti and Smith manage to do quite a bit with the resources available to them on this production, with a number of different sets and quite a large cast. Unfortunately, this still doesn't save this plodding, often painful to watch tale. Some wrongheaded day-for-night shooting - which looks washed out and terrible - is bad enough, but the acting - most notably Timide as Drake Uala and Chris-May Zeithaml as Vyto's daughter - is just wretched. The vampire make-up, which looks to be influenced by the gangster/horror combination of
From Dusk Till Dawn
, looks quite good, and Mark Standriff as Vyto seems to be trying his best, but even with a half hour run time this seems to go on forever.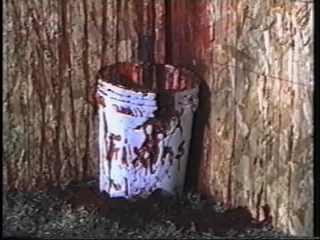 Things pick up significantly with
The Town That Loved Pizza
(coming up with titles is obviously not Agosti and Smith's strong suit). While filmed earlier, this production feels considerably less restrained which works in its favor. Brothers Obediah and Jebediah arrive in a small (and surprisingly snow-covered) Texas town to open up a new meat-only pizzeria, much to the chagrin of the local redneck Sheriff. When citizens start going missing the Sheriff is rightfully suspicious of the newcomers, and things get plenty bloody in a climax involving a wood-chipper and a bucket of "fixins". While the constant mugging of the actors get irritating - particularly Smith as the Sheriff - and things definitely look cheap, the persistent sense of fun makes this offering a lot more tolerable. Even the most naive viewer will know exactly how things are going to pan out from the opening moments, but there's some decent gore and the whole thing is fast-paced. I'm not sure why they chose to set the story in Texas - especially as it's rather obviously filmed in Ohio - but there a few moments obviously cribbed from
The Texas Chainsaw Massacre
(most notably a scene featuring Obediah, a meathook and a chainsaw).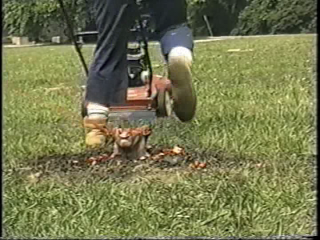 Story number three is
The Garden Tool Murders
, which serves mostly to throw some innovative - though not particularly stylish - gore at the screen. Caleb (Smith again) is a dedicated groundskeeper, but doesn't take kindly to those who litter - even going as far as to (seemingly) kill random passers-by with assorted garden implements. The most violent of the segments, this time we get death by lawn-mower, decapitation by weed-wacker and (my personal favorite) a face mangled in a car motor. Agotsi must have been working overtime to get the cheesy effects together, and while they are never realistic, that's sort of the point. Cheesy violence and a groan-worthy twist at the end makes this segment tolerable, though visually very flat.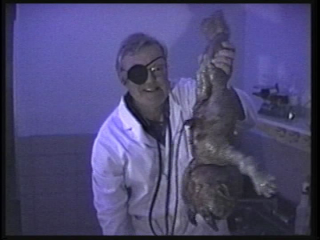 Thankfully the final segment -
Demon's Day
- is suitably bat-shit, though it features such a bizarre plot that it's difficult to summarize. A coroner finds some demon flesh under the fingernails of a fresh corpse, which is exactly what he needs for his cloning experiments. Yep, the guy decides to clone Lucifer, who comes out of the fish tank as a rubbery baby puppet second only to
Las Vegas Bloodbath
in goofiness. Soon demons and troll-like creatures are popping up, and this clone of Lucifer is setting pimps on fire (my own favorite moment), killing prostitutes, and pulling the heads off of other demons. The whole thing climaxes in a circle of fire, with some demon on demon action that is enjoyably ludicrous. Disjointed doesn't really begin to explain the problems with Demon's Day, as it feels like most of the exposition has been sliced out for pacing reasons - though considering the quality of the exposition in the other features, it would be wrong to complain. It does move very fast, and there's certainly plenty to look out, but it might just leave you shaking your head and wondering what the heck you've just seen..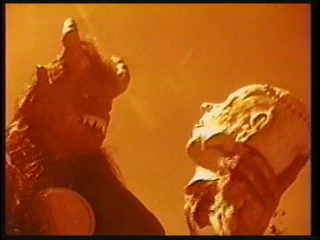 Dr. Shock's Tales of Terror
is presented in its original full-screen ratio, and it could easily pass for a shot-on-video production from the mid-90s rather than one compiled in the last decade. Colors are muted and often fuzzy, and there are the usual glitches to be found. Aside from some awful sound-effects - some of the punching in
Bullet For a Vampire
sounds like something out of a cartoon - sound is consistent, with only the demon dialogue in
Demon's Day
being difficult to make out. The music doesn't call much attention to itself, but it's appropriately subdued.
This being a Bloody Nightmares disk, we're once again left with no chapter stops, which is a shame since anthologies lend themselves well to being able to skip over segments. Both
Bullet
and
The Town That Loved Pizza
have some welcome outtakes during their respective closing credits. That said, since each production (and the host segments) have their own opening and closing credits, you might be reaching for the remote instead of sitting through all of them.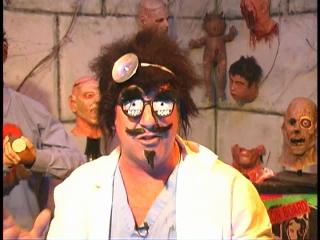 Perhaps still a bit wary following
Dead is Dead
, I ended up being pleasantly surprised by
Dr. Shock's Tales of Terror
, which ended up fulfilling my (admittedly low) expectations. While the first segment is plodding, and the wraparound bits are painfully unfunny, there are enough moments of inspired goofiness in the three remaining films to prevent total brain damage. It might take some effort to get there, but for those looking for minor thrills
Dr. Shock
does eventually deliver.