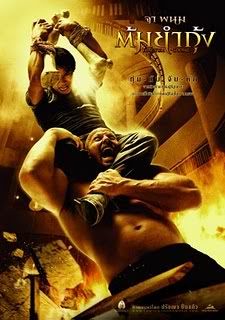 Sometimes the best way to enjoy something is to appreciate it for what it is.

When I went to see Ong Bak a few years ago, I had heard so much hype about how it would revolutionize the martial arts film as we knew it. I didn't really pay much attention to the buzz and as a result, I left the theater with a great sense of satisfaction at the end of the movie.

Ong Bak and Tom-Yum-Goong have a lot in common with their Hong Kong kung fu film ancestors. Both Ong Bak and Tom-Yum-Goong are little more than showcases of the amazing athleticism of Tony Jaa and have just enough plot to justify multiple scenes of Jaa beating the breaks off of numerous underworld thugs.

To ask of these movies would be absurd. You didn't pay your hard-earned ticket money to hear Jaa recite Shakespere; you came to see Jaa elbow someone in the jaw as hard as he can.

While Ong Bak is my preferred film of the two, my favorite fight scene of either film is the jaw dropping six-minute festival of carnage that goes down as our hero, Kham (Tony Jaa), pushes forward to force a showdown between himself and the villainous, transsexual Chinese gangster, Madame Rose (played by actual male-to-female transsexual actor... er... actress.... Xing Jing)

I couldn't make up something that great if I tried.. anyway..

Just like the hallway fight in Oldboy, this scene went to the film can in one glorious take and it is simply amazing to take note of the little things like Jaa's uncanny agility and the unbelievably insane risks that the stuntmen take for the sake of the film.

It takes a special kind of crazy to fall from the heights that those guys did or to stand there and have Jaa execute a flying knee that shatters a porcelain sink against your chest cavity.

The fact that Jaa is visibly winded when he confronts Johnny (the equally bad-ass Johnny Nguyen from The Rebel) speaks volumes about the amount of physicality involved in the previous moments of that particular scene, but Jaa is a damned machine and he makes it look easy.

Oh, and I would be remiss if I didn't equally praise Nathan Jones, Lateef Crowder, and Jon Foo for providing more of the menacing opposition our intrepid hero faces throughout this movie.