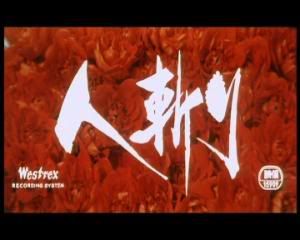 Hideo Gosha's second release of 1969 is perhaps on par with the excellent
Goyokin
, and seems to work in tandem with the earlier film to act as a criticism of the samurai way of life. The film is very closely centered on Shintaro Katsu, who plays Okada Izo. This character will be familiar to anyone who watched Takeshi Miike's
IZO
, a movie about the same character existing throughout time, and acting not as a person, but as a symbol of the ever-present violence of the system…or something. Gosha's film, on the other hand, is a character study of the assassin during his lifetime, and Katsu brings a depth of humanity to the character entirely missing from Miike's later work.
We first meet Izo as an out of work and miserable ronin. Izo is so down on his luck that he even offers to sell his armour, but finds that the price simply isn't worth it. In desperation, he turns to Hampeita Takechi, played by Gosha's long-time collaborator Tatsuya Nakadai. Takechi is the head of the Tosa Clan, a group of Loyalists intent on overthrowing the Shogunate and returning the Emperor to power. Takechi offers Izo a job as an assassin, and the rumpled and pathetic Izo accepts. Flashing forward, the viewer discovers that Izo has rapidly gained in power and rank, and is known as a nearly unstoppable killer.
Indeed, Izo is shown to be a victim of his success. As he gains more and more fame for his skills as a killer, he becomes more and more enamoured with himself. He is often drunk, and always loud and abrasive. Izo likes nothing more than his fame, and takes any compliment from Takechi like a dog accepting a bone. His rise to decadence makes up a large portion of the first part of the film, but its accompanied by the sense, in the viewer, that it cannot last.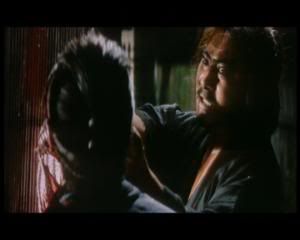 And, of course, it cannot. Eventually, Izo angers Takechi, and when he's rebuked he feels that he's become too important to follow Takechi's orders. He soon discovers, though, that his great renown as a killer offers him no real job opportunities, and that only outcome of turning on his master is the possibility that he'll return to where the viewer first found him--alone and penniless, on the verge of starvation.
Tenchu!
is more infamous than it is famous, due largely to the presence of the poet and playwright Yukio Mishima, in the role of Shimbei Tanaka, another "unstoppable" assassin. In an eerie foreshadowing of things to come, a scene in
Tenchu!
Depicts Shimbei Tanaka committing seppuku, only a year before the poet himself did the real thing.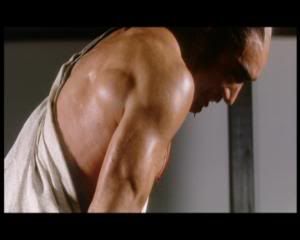 While
Tenchu!
Certainly offers its fair share of action, most of this is frontloaded into the first half of the film. The rest painstakingly details the fall of Okada Izo. Here, Katsu is at his best. His deep, expressive eyes are able to make plain the depths of the anguish and turmoil Izo feels inside. The ruthless samurai not only has to come to terms with his own place in the world, but he is soon forced to confront and interrogate the very notions of the samurai way of life, of clan loyalty and fealty, and even of the use of violence itself. Many viewers may find this second half of the film far less entertaining than the first, but it is this portion of the film that truly separates it from the flock of samurai films that were prevalent at the time. The emotional depth of the film is no doubt due to its writer, Shinobu Hashimoto, whose writing credits include Kurosawa's
The Seven Samurai
and T
hrone of Blood
, as well as Kobayashi's
Harakiri
and
Samurai Rebellion
.
Currently, there's no North America release of
Tenchu!
, as is the case with most of Gosha's films. The French release, by Wild Side, is a great, two DVD offering, featuring great video quality. Oddly, though, despite being a two-disc set, it only offers a handful of extras, such as interviews and a photo gallery. The original trailer seems to have been lost. Unfortunately, there are no English subs, so if you want to own a copy of the DVD, be prepared to wait (or starting learning French).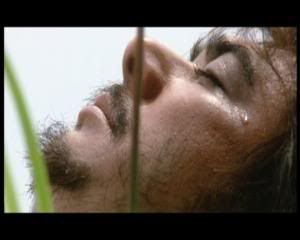 It's crazy to think that Gosha was able to release both
Goyokin
and
Tenchu!
in the same year. In some circles, both films are considered classics of the genre. Don't let that fool you, though; both are radically different films. While
Goyokin
is an exciting action/adventure,
Tenchu!
is a more cold and introspective film. That doesn't mean that it doesn't contain some great action--it does--but if that's what you're looking for,
Tenchu!
might not be for you. Here's hoping an English language release is on the way.