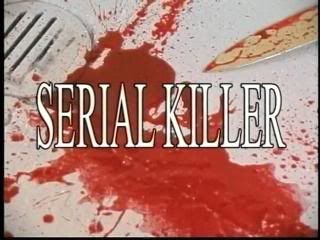 A few years before
Demon Slaughter
, Director Ryan Cavalline put together a much more serious take on the horror genre in
Serial Killer
. More of a meditation on the mind of a murderer than a straight stalk and slash type of movie, Cavelline nonetheless packs the film with naked ladies and a few familiar faces to Z-grade horror fans.
The film spends much of its running time cutting between Michael (Adam Berasi, also the lead in Demon Slaughter), a professional writer who has begun to receive violent videotapes after publishing a book on serial killers, as wel as the exploits of an unamed serial killer (Vic Badger) who has apparently captured Michael's wife and child. Also interspersed throughout are filmed testimonials from actors portraying serial killers, including low-budget legend Joel D. Wynkoop, as well as terrified statements from the serial killers (naked and tied up) victims. And guess what? There's a twist at the end! Try your best not to guess it in the first ten minutes.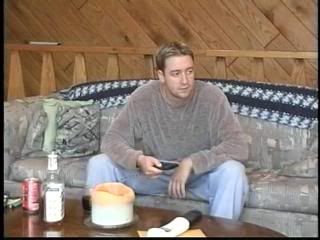 At times Serial Killer is quite an unpleasant movie to watch, but unlike
Nightmare Asylum
this time it's actually intentional. The serial killers speaking to the camera, while sometimes unconvincing, provide some powerful and disturbing moments that, frankly, give the film more power than it deserves. The main plot leaves much to be desired, and while the serial killer scenes have some strong elements, it's a bit too grim and humourless to be entertaining. And while I appreciated the bevy of naked adult entertainers on display, their frequency began to feel more and more exploitive as the film went on, particularly when they detail their respective sexual assaults.
But despite my objections to some of the content, Cavelline was smart to edit these scenes in to break up some of the monotony of Michael's brooding. He spend much of the film drinking and looking dour which quickly starts to become tiring. It's also interesting that graphic violence is mostly avoided, at least until the end, which was a surprise after the goopy excess of
Demon Slaughter.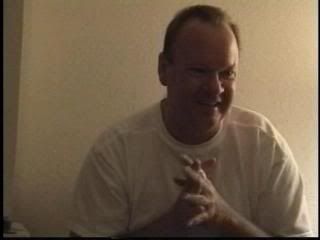 I praised Adam Berasi's performance in
Demon Slaughter
, but here he's really quite unconvincing as a tormented writer. Much better is Vic Badger who hammed it up as Satan in
Demon Slaughter
, but his unhinged act works much better here. The serial killers on the interview tapes (which include producer Ron Bonk and z-horror mainstay Ron Ford) do their job efficiently, but it's Wynkoop who is most memorably creepy.
While it uses only a few locations, the technical aspects of the film are respectable. Aside from an ill chosen rock song during a cemetary scene, the music is very well done. Dialogue is usually intelligible, and the special FX are all tolerable, though again sometimes hurt by poor editing.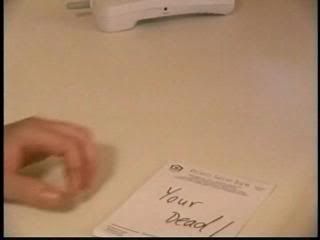 Though it's only a small detail, there was one particular moment of the film that felt quite careless. I was irked by Michael writing "Your Dead" on a note for an autograph seeking visitor. It's difficult to believe that a professional writer would make such a slip on Your/You're, and it's almost equally hard to believe that it ended up in the finished film without someone noticing.
Serial Killer
is presented in a decent fullscreen transfer free of some of the pixelation issues that plague other films in the
Bloody Nightmares
collection. Luckily there are none of the sound issues which made
Demon Slaughter
so difficult to sit through.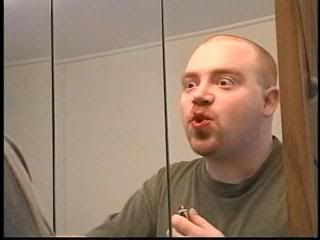 A decent stab (ha!) at a difficult genre, Ryan Cavalline deserves credit for trying something a little different in
Serial Killer
, though he fails as often as he succeeds. Hampered by some bad performances and an uneven story, there are still enough effective and creepy moments throughout to make it a worthwhile watch. However, a bit more care with the production side of things could have resulted in a much stronger film.