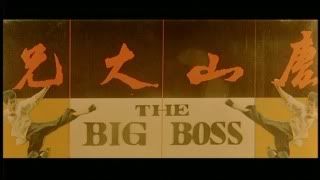 Very rarely, and often without warning, all the elements come together to create a full-fledged film superstar.
The Big Boss
(alternately - and confusingly - known as
The Chinese Connection
and
Fists of Fury
in North America) was the film that launched Bruce Lee as an international force to be reckoned with, and it's easy to see why audiences flocked to watch the charismatic kung-fu master in action. However, while credit must be given to the filmmakers for recognizing that they had captured lightning in a bottle, inevitably the film works better as a showcase for Lee than as a unique piece of martial arts cinema.
In fact, originally the film was to star established actor James Tien in the lead - and those watching for the first time may be excused for wondering why the first half focuses so obviously on Tien's character. It was the rather astute recognition of Lee's abilities which led to the expansion of his role, and his character's reluctance to fight (because of a promise to his mother) eventually gives way to Lee dispatching groups of baddies with his trademark intensity. While the plot is a fairly standard modern-day revenge story, the near-accidental build to Lee's explosive style of kung-fu - as well as its eventual release - becomes much more captivating than the uncovering of a drug smuggling operation.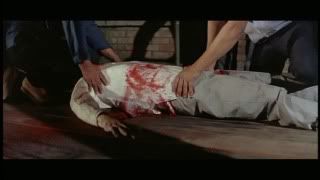 Lee plays Cheng Chao-an, who travels to Thailand with his Uncle in order to find work in an ice factory with his cousins. After discovering a bag of white powder hidden in some broken ice, two of Cheng's cousins are killed to keep them quiet. Apparently there isn't a lot of money in the ice business, but the drug smuggling business is quite profitable. The remaining workers (led by James Tien's Hsu Chien) demand to know the whereabouts of the missing pair, and Hsu Chien eventually confronts the Big Boss, Hsiao Mi, but is also murdered for his efforts. When Cheng's own suspicions grow he's promoted to the position of foreman - and bribed with alcohol and prostitutes by Hsiao Mi. While fending off resentment from the remaining cousins, Cheng uncovers the drug smuggling operation - which eventually leads to a one-on-one confrontation with the big boss.
While Lee's influence on cinema, and particularly martial arts cinema, was revolutionary in a number of ways, what jumps out when watching The Big Boss is his contribution to kung-fu choreography. While the fights in the film's first half are entertaining, they mostly feature characters flailing about messily without much specific purpose. Lee's fights are a revelation, as he throws out lightning fast kicks and bone-shattering punches. His fighting has impact and is amazingly focused, which was obviously hugely influential on the Golden Harvest and Shaw Brothers films released throughout the rest of the decade.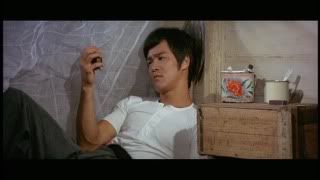 But it wasn't just Lee's fighting abilities that eventually made him an international superstar. While
The Big Boss
isn't going to win any acting awards, Lee is terrific as a character with almost superhuman abilities boiling inside of him. But it's the flashes of playfulness and humor that make him such an appealing character. As the big boss, Han Ying-chieh - who also choreographed much of the action - is appropriately fiendish while James Tien is really quite good as the hurriedly pushed aside Hsiu Chien. Genre fans will recognize the late Lam Ching-ying (
Eastern Condors
,
Mr. Vampire
) in a small role.
I was actually a little surprised by the amount of bloody violence in the film. While Chang Cheh would later bring his special mix of blood and kung-fu later in the decade, there quite a bit of bloodletting - especially in an infamous scene where two character's bodies are disposed of using a buzzsaw. While the scene his been obviously edited down, it's still a bit startling. Even Bruce gets in on the action, particularly in his final confrontation with the Big Boss. Apparently there were even more violent scenes left on the cutting room floor, but i'll admit that I didn't expect these exploitive elements in what I thought to be a rather tame kung-fu film.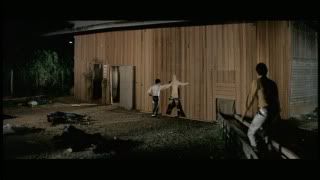 Director Wei Lo would later go on to direct both
Fist of Fury
and the Jackie Chan vehicle
New Fist of Fury
, and he does an adequate job of shooting the action scenes. Unfortunately, he does add a few campy elements - like Cheng punching a baddie so hard he leaves a cartoon outline in a wall - that seem out of place considering the surrounding violence.
Available in countless DVD versions of varying quality (and lengths), the 2005 DVD release from 20th Century Fox treats the film with some welcome respect.
The Big Boss
is presented in 2.35:1 anamorphic widescreen, and it blows all previous editions that I've seen out of the water. Despite what appeared to be a low budget, the film shows little of the grain or film damage common with martial arts films of this period. Just a great looking DVD. As well, fans are given the option of four different audio tracks: English 5.1 or DTS, Cantonese 2.0, or Mandarin 2.0. Of course there are optional English subtitles available. The Cantonese and Mandarin versions have two completely different scores, and viewers will be tickled to hear snippets from Pink Floyd and King Crimson in the Cantonese version. I don't care for English dubbing, even in kung-fu films, so I watched the very enjoyable Mandarin version. I noticed a few grammatical and spelling errors in the subtitles, but nothing that would be particularly distracting.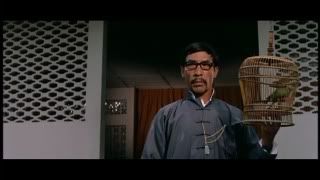 While it doesn't come close to matching the special features available on the Hong Kong Legends region 2 DVD releases (which have commentaries and deleted scenes), 20th Century Fox have been good enough to include the original trailer for the film, a second (particularly cheesy) new trailer, a photo gallery and slideshow, and a two and a half minute interview with actor/director Stephen Tung Wai. There are also extra trailers for
City Hunter
,
The Young Master
,
The Iron-Fisted Monk
and
Prodigal Son
.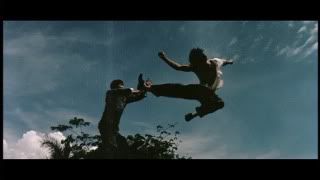 A messy and unbalanced film, The Big Boss might not be spectacular entertainment, but it does an adequate job of showing off the acting and martial arts skill of Bruce Lee. In fact, Lee so trumps his surroundings that the film practically limps when he's not on-screen - which makes the first hour a bit of a trial. Still, patient viewers will be rewarded when he's unleashed in the film's final half hour, delivering bloody beatings in a way that only Bruce ever could. Historically important, but not worth rushing to see.