Anthology films are actually quite popular in the world of no-budget filmmaking, and it's not hard to see why. One of the biggest problems with many of the films in the Bloody Nightmares collection is that there simply isn't enough plot to carry a ninety minute run-time, which leaves most of the productions feeling padded. An anthology lets a director, or a collection of directors, create short films (usually linked by some sort of surrounding piece) in which to show off their respective skills. Unfortunately, anthologies are also terribly difficult to pull off effectively. The shorter running time forces the directors to cut to the chase early, and there's apparently an irritating need to include a last second twist which – if not up to snuff – could leave the audience groaning.
Before I Die
amasses quite a collection of semi-recognizable low-budget talent, but the actual stories are barely worth telling and include few surprises for anyone raised on
Creepshow
or
Tales From the Crypt.
This time out we get three stories, with a framing tale consisting of an author dealing with a case of writer's block and looking desperately for inspiration. The first story, called "Time For Dessert", is about a rather plump woman (M. Catherine Holseybrook) who takes random men back to her hotel room for apparent sexual relations. After being rebuffed, a potential suitor starts to stalk her incessantly, before discovering that – wait for it – she's actually some sort of spider creature that eats men. The final reveal of the "monster" is really the only highlight here, besides some of the awesomely bad declarations from the spurned beau ("I'm so hot for her!").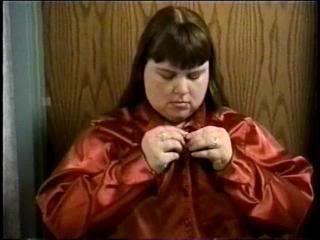 In "Last Resort", a couple (David Lee and co-director Dawn Murphy) find their honeymoon resort totally abandoned upon arrival. While they enjoy the privacy at first – it allows them to have sex in every available body of water – strange ghostly happenings begin to make the two rather nervous about their stay. It turns out – wait for it – that the resort was actually once owned by an Amish couple that murdered each other in 1918 before the resort had a chance to actually open. Also, the Amish couple looked just like the newlyweds! SHOCK! HORROR! SURPRISE! Keep your eye out for Murphy also playing the travel agent in the bookends of the section, though those sections are honestly painful to watch. This section is the only one having anything resembling production value, and i'm actually rather shocked that the directors were able to get that much use out of a resort. Good for them. Not good for anyone watching.
The final, and worst, story is "Someone is Sleeping in My Bed"which features an escaped lunatic stalking a young woman who likes to lounge around either naked or semi-naked in her new apartment. After watching her watch TV, attempt to shower, nap,watch more tv, change the fuses, and attempt to shower once again he finally strangles her to death. Pointless.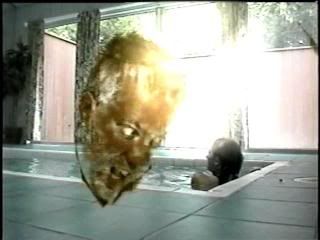 All three segments are shot-on-video and have various technical issues – usually sound related – which would make them less than palatable for the average audience member. It's the more substantial problems – repetitive dialogue, predictable twists, often terrible acting – that made watching this such a difficult proposition for those with thicker skin. The first film's trick ending is telegraphed in the first two minutes, and – though directed by low-budget "legend" Joel Wynkoop – simply looks cheap. While some of the humor is obviously intentional, the central idea of a fat woman literally eating the men she picks up is seriously corny. Also, there's a brief blowjob scene with sound effects that may give me (bloody) nightmares for years to come.
"Last Resort" is probably the best of a bad bunch, though is stretched out to interminable lengths by multiple (oddly skinless) sex scene montages. There is actually some nice photography of the Poconos, but the supernatural activity really only involves hearing random whispering, having bedsheets pulled off when a character is trying to sleep, and another character almost drowning after seeing a ridiculous, superimposed head. Comically, when faced with these frightening occurrences, the couple simply leaves and return home. Not exactly terrifying. The acting really isn't bad for most of this section, but the travel agent scenes are painful.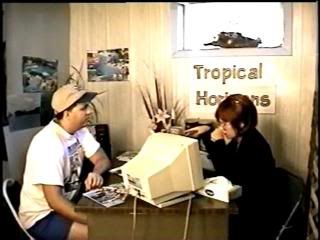 The only thing truly notable about the final story is that the main protagonist has a poster for the Chevy Chase comedy
Funny Farm
on her wall. While possibly a misdirected attempt at a comedic reference to the mental patient killer, I was simply distracted in wondering why a framed poster for that film even exists. Nancy Felicians as the victim looks fine in the buff, but has trouble showing emotion even when being strangled to death, and this whole segment seems like a throwaway. It does tie into the framing story – apparently the writer actually killed his wife (also played by the robotic Felicians) in order to inspire himself to write the short stories which comprised the tales we watched. The idea that any of these tales could comprise successful short stories might be the hardest thing of all to swallow.
Obviously sourced from a video tape, there are a few tracking issues and the sound drops out occasionally, the film is presented in really pixelated fullscreen. Blurry and usually significantly underlit, it's hard to make out much detail and that's probably a good thing. Sound issues are present in all three sections, with edits often being marked by significant changes in ambient sound. Music is generally of the John Carpenter repetitive synth variety, but does its job. It would take more than creepy music to wring any suspense out of this material.
It's the Bloody Nightmares collection, so there are no extras. Not even chapter stops. Lame.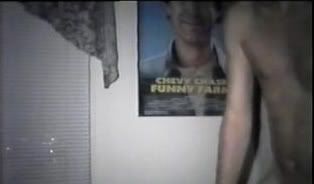 A silly and generally pointless collection of tales unlikely to scare (or amuse) anyone,
Before I Die
has a couple of clever moments that are far outweighed by the sheer ineptitude of the productions as a whole. More time spent scripting each segment might of made a world of difference, particularly with the awful twist endings which will leave most audience members groaning. An anthology format could have been a nice opportunity for those involved here to show off their individual talents, but instead only show why no-budget features have such a stigma attached to them. Not worth your time.