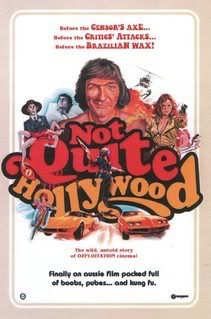 Not Quite Hollywood: The Wild, Untold Story of Ozploitation! (2008)
- Fabulously entertaining documentary showing the rise and fall of Australian exploitation cinema throughout the 1970s and 80s. We get the expected appearances by Russell Mulcahy (
Highlander
,
Razorback
) and George Miller (
Mad Max
), but it's the lesser known faces (and films)to American audiences which make the biggest impact. Brian Trenchard-Smith (director of
Dead-End Drive In
,
BMX Bandits
, and
Turkey Shoo
t) gets a lot of attention, particularly from Quentin Tarantino who is, as one would expect, a huge fan of the genre. Features plenty of nudity (including a jaw-dropping clip of John Holmes) and gore, but it's all played up with a great deal of fun and style by director Mark Hartley, and the editing is magnificent, making even the cheapest piece-of-crap look worthy of being in the distinguishing genre fan's collection. Enlightening, engrossing and highly recommended for fans of films that hurtle wildly off the beaten track.