Remember back, if you will, to the days before Wikipedia, before the internet had so thoroughly saturated every part of our lives. Back then, we were blissfully unaware of furries, of slash fiction, and of things like "pinky violence," a sleazy and popular Japanese genre, whose basic ingredients are graphic nudity, graphic sex, and graphic death. O, we were almost virginal in our ignorance then…
Teruo Ishii was (apparently) a virtuoso of pinky violence--or, more specifically, the ero guro ("erotic-grotesque") subgenre (trust me, I had to look this up). One of his films,
Bohachi Bushido: Code of the Forgotten Eight
, based on a comic by Kazuo Koike (Hanzo the Razor), has just found itself released in North America, packed with extras and some easy-to-read subtitles, thus making pinky violence accessible to all.
So, here's the deal: Shino Ashita (Tetsuro Tamba) is your standard Super Samurai. In the film's opening moments, he takes on a plethora of armed guards, and kills them all in gruesome fashion, without even breaking a sweat. He declares "To die is hell, but to live, is also hell." Dude has issues.
Shino is taken in by the Bohachi clan, a group of lowlifes and scumbags who run the prostitution biz in Yoshiwara. In order to become a member of the Bohachi, you have to abandon the "eight human virtues." What are these virtues, you ask? Well, I'll tell you:
1. Godliness
2. Obedience and fidelity towards elders
3. Loyalty towards friends
4. Trusting your allies
5. Modesty
6. Justice
7. Conscience
8. Shame
…all of this explained by a voice-over, accompanied by a montage of naked women be tortured, for the purpose of turning them into Bohachi women.
Here's the thing: Shino, as low and deplorable as he is, seems incapable of banishing all eight of the human virtues, and so is kicked out of the clan. Luckily, though, a clan elder recognizes his unmatched capacity for violence, and keeps him on as a guest. Shino takes up a new occupation--to safeguard the Bohachi's monopoly on drugs and prostitution, he becomes a hitman, killing every john who sleeps with a whore outside of Yoshiwara.
In this way,
Bohachi Bushido
tries to have its cake and eat it too. Officially divorced from the Bohachi, the viewer doesn't have to feel bad cheering for Shino, who now viciously kills the scum of the land. The Bohachi women also turn out, remarkably, to be just as evil as their pimps, and so the viewer isn't supposed to feel bad for seeing them victimized. Plus, you just know that Shino will eventually turn on the Bohachi, making their evil somehow more acceptable for the duration. The extent to which the film succeeds with this moral switcheroo depends on how willing the viewer is to let it get away with it; and, certainly, if you've come to see sex and violence, the film delivers in spades, and so perhaps you're willing to give it some leeway with its extremely flawed morals.
Bohachi Bushido
is at its best when its at its most comical. Prostitutes don fireproof kimonos and roll in flames to put out a grease-fire; when those same prostitutes encounter a ninja some moments later, they inevitably engage in a naked wrestling match with their stealthy assailant. Shino continually gets into bloody swordfights, where limbs fly through the air and his opponents are reduced to blood-filled piñatas. Ishii makes no claims towards realism, and uses coloured spotlights and strange filters to exaggerate the comic book quality of the action. He's like a poor man's Kenji Misumi. Tetsuro Tamba (who you may recognize from his role as Tiger Tanaka in James Bond's
You Only Live Twice
) plays his standard role: stoic, weather-beaten samurai guy, the same one he plays in countless samurai films.
The Discotek DVD sports a fair amount of extras, including an interview with the female lead Yuriko Hishima and a discussion with pinky violence "expert" J-Taro Sugisaku (who explains that the women in pinky violence films "use their sexy violence to entice the hero to win the battle.") You also get a few pages from the original manga and a couple of write-ups about the film. All in all, it's more than you would expect for a film of this, er, genre.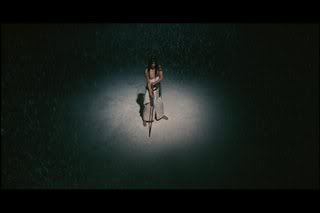 There's really no point in recommending this film or not. If the idea of unrelenting violence and nudity appeals to you--and hey, who could blame you for that?--then
Bohachi Bushido
is the movie for you. If you find the entire concept of the film deplorable--and hey, who could blame you for that?--then it'd be best to steer clear.